Simply complete a form to ensure you don't forget any important information.
Your notice will be generated as a PDF, which will be perfectly suitable as a letter (including a letter window).
Your connection to our service is encrypted. We do not store the data from our forms permanently!
About cancellations for Gym Memberships in Switzerland
Many fitness providers extend the contract period annually. This must be explicitly stated (e.g. bold print in the offer). If the automatic extension is only hidden in the AGB's, this is not legal. In some cases it is also possible to terminate the contract within the contract period, e.g. in the case of:
Pregnancy
Long-lasting illness
Occupational relocation
Unemployment
Military service
With our form we will quickly provide you with a suitable cancellation for your Gym membership free of charge.
Example of the Letter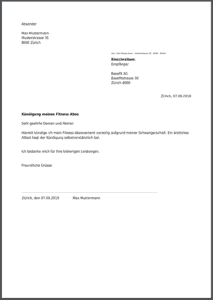 Questions about cancelling a gym membership:
What are the notice periods for gym memberships?
This can be freely determined, we therefore recommend a look at the agreement or the terms and conditions of the fitness studio. In most cases, the period is 2-3 months.
How do I proceed if I want to terminate for exceptional reasons or prematurely?
For the reasons mentioned above (pregnancy, permanent illness, etc.) it is often possible to cancel the membership according to the terms within. You can easily select the reason when you create the cancellation using our form. The appropriate wording will then be generated automatically. Important: Don't forget that in this case you should enclose a written confirmation (e.g. a medical certificate).
Will I receive a refund in the event of an exceptional cancellation?
If one of the reasons mentioned above apply, this is certainly possible. Otherwise, fitness studios are not very accommodating and a refund is not to be expected.
What do I need to know about automatic membership renewal?
A lot of fitness studios in Switzerland automatically extend the membership at the end of the duration. If this was apparent when the contract was made and not hidden in contract clauses, then this is also legal.